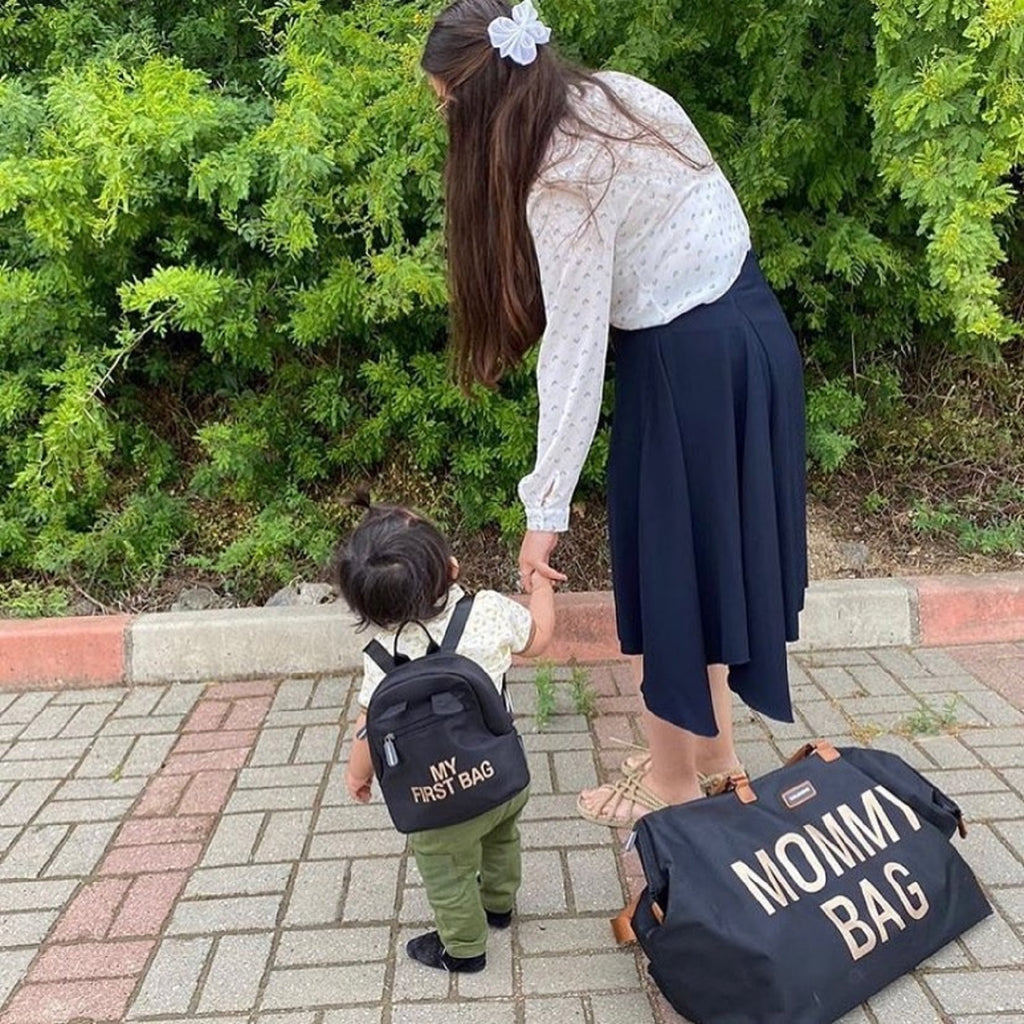 Baby
Mommy Bag Big Black Gold
Description
Becoming a mom is the best feeling in the world! Wear your Mommy title with pride and let the world know you've got baby stuff in your bag. Our iconic Mommy Bag has become a must have for new and expecting moms all over the world.
Due to the spacious dimensions of the Mommy Bag (55x30x40cm), all things for mom and child(ren) can be easily stored and carried. The bag is not only handy and spacious, but also fashionable due to the handsome Belgian design.
It is the ideal bag to use as a hospital bag, nursery bag and diaper bag, but also as a travel bag, sports bag or weekend bag. You will never want to go out without your Mommy Bag again.
The multiple compartments and elastic bands on the inside are also super practical for easy loading and unloading. A handy foldable nursing mat and carrying strap are included, so that the bag can also be easily carried over the shoulder.
Tip: do not place the bag on a rough surface to avoid traces of wear. Also be careful with sharp objects.
The one and only original Mommy Bag with Belgian design since 2016!
"Fashion is a passion, also for babies." - Nathalie Aerts, designer of the Mommy Bag
Important advantages at a glance:
Fashionable bag for proud mommies (to be)
Original Belgian design
Perfect for every occasion. Can be used as a diaper bag, nursing bag, travel bag, beach bag, hospital bag, weekend bag, ...
Different compartments and elastic bands keep the bag tidy easily
Special zipper that easily stays open
Handy cooling pouch provided on the inside
Standard included
Mommy Bag
Nursery mat
Shoulder strap
Important specifications
Dimensions: 55.0 x 30.0 x 40.0 cm
Material:

Oxford Cloth: 100% Nylon
Lining: 100% Nylon

Maintenance: Not machine washable - Clean with damp cloth and dry immediately
*SHIPPING: Only available within the UAE.