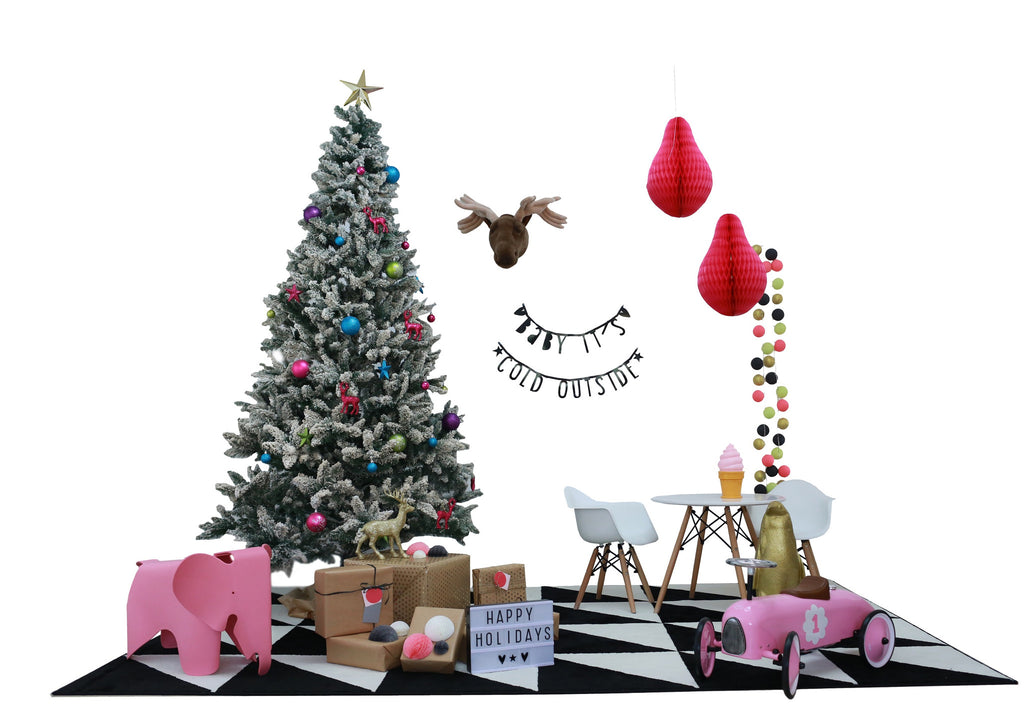 We have recently been approached by Dubai our Sandbox in partnership with Stella and the Stars to be part of the most colorful Christmas photoshoot ... and I can tell you we had a lot of fun ! Kidette Boutique helped us dressing our little one and Caramel and Sun provided all the cool accessories. Have a look at it and rush to the store in Mercato or on our website.
Black Letter Banner - A Little Lovely Company - 85 aed
Dear Head - Wild and Soft - 350 aed
Pink Elephant Eames replica - 350 aed
White Chair and Table Eames replica - 170 aed and 250 aed
A4 Light Box - A Little Lovely Company - 250 aed
All our kids were dressed by Kidette Boutique
Fairy Lights - Birds n' Bees - Price upon request
During our break we had time to share our different Christmas tradition and Christmas list... 
Emilie, from Stella and the Stars, are you staying in Dubai for Christmas this year and what are your plans?
We are staying in Dubai and it will be our first ever Christmas in the desert. No family celebrations this year sadly but we will be spending the festive season with new friends! There is something terribly exciting about spending the winter holidays in flip flops on the beach....
What are your top 3 products at Caramel and Sun?
Oh my god there are soooo many. Play and go toy storage bags changed my life, I am obsessed with all the lamps (bunnies, mushrooms) from Egmont Toys and the Vilac ride-on pink car is just what dreams are made of.
What did you enjoy the most during the photoshoot? 
Adding a bit for madness and colour to the Xmas theme, working with a bunch of fabulous like-minded mamas, have the kids playing supermodels for the day, seeing how an idea in my head just came to life thanks to the beautiful products we used. 
How about you Emily, from Dubai Our Sandbox? 
We are going home to Sweden for Xmas. It's our first Xmas in our new house...Hoping for a white Xmas by the fireplace!
My favorite products from Caramel and Sun are definitely the Light Box from A Little Lovely Company, the coloring Posters from Omy and of course the storage bag from Play and Go.
It was really nice to mingle with lovely ladies, strong mum-entrepreneurs that I really appreciate and get inspired by.
Magali and I will be staying in Dubai. Christmas is an important retail period for us and we want to make sure all our customers are happy... however on the 25th of December you may see us at the beach !
Merry Christmas to all and Happy Shopping !
Olivia 
Thank you to Racha Hallak for all the lovely pictures and her energy in this project !